What's New @ IDENTITY DUBAI ?
March 2013 | SESS | Corporate Identity
Selcra Electronic Security Systems, is a US based company spreading its hi-tech security and monitoring products and services to the Middle East and establishing branches in Saudi Arabia, Qatar, UAE and Kuwait.

March 2013 | Festivity Events (Named earlier as: Top 3 Events) | Corporate Identity
Festivity Events is a promising new events company with a young and ambitious management team. Soon and within the month of April, they will be launching a live art- related event which is considered the first of its kind in the GCC and the Middle East.

March 2013 | Karl Williams | Web Design, Development & Copywriting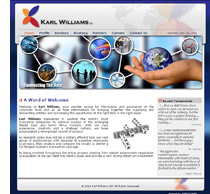 Karl Williams specializes in guiding the world's most innovative companies to achieve success in the emerging Middle East and North Africa markets.
Starting from identifying business opportunities, introducing the secure investment to project sourcing to both local and international companies, to managing massive trade deals, and conjoining the vendor and the buyer, we gained our trust as a leading liaison agency.