08. OSHA QATAR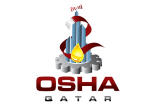 OSHA Qatar's mission is to establish a partnership with business entities that share the same philosophy of offering quality products and services to their clients, developing joint business values, and attaining the most profitable outcome & results.
"Following honest business values, while staying current with market demands, and implementing the latest in technology changes and trends" was our brief.
IDENTITY DUBAI's tasks were to create the logo from the three different sketches each partner supplied and to create a company profile and a pre-qualification document for their numerous services and diversified products.

Full 65 Page Corporate Profile
available for preview at: